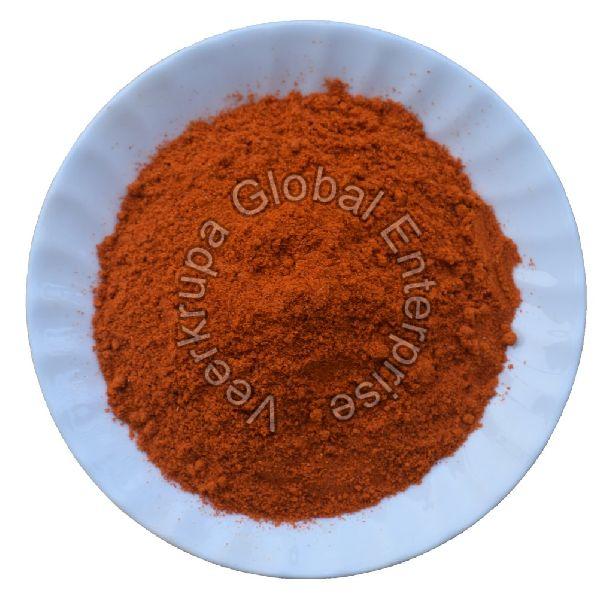 This red-colored quintessential spice blend is made up of a long list of spices available in the Indian market. The chief ingredient in blended red chili powder is dried red chiles. It's the best practice to use ones that are smoky, earthy, flavorful, and not too spicy. This popular spice is blended with other spices including cumin, onion, garlic powder, oregano, and sometimes salt also. Every spice has some unique role to make this blended red chili powder. Cumin and smoked paprika add more smokiness, while garlic powder adds a bit of a savory element. Oregano and coriander provide earthiness. Generally, the red chili peppers include cayenne pepper that adds heat and are adjustable depending on your preference for spiciness.
The heat level offered by every brand of blended red chili powder varies but it is always far lower in comparison to pure ground red chili peppers. The aromatic and savory spices used in this moderately spicy powder create the popular flavor known as Tex-Mex to be used in dishes like casseroles, meat, beans, and stews. People who have a great sense of taste can easily identify the flavors of each spice blended in the chili powder. Always keep in mind the salt ratio in this blend whenever you add this spice to your marinades before barbecuing or grilling your meat, paneer, or any other vegetable.
Some culinary uses of this blended red chili powder to make your Indian snacks more flavorful and tasty are-
-Prepare batter for the most famous evening snack like bread pakoras and tikkis.
-Add this spice to your homemade tomato pasta sauce to make it more delicious and desi.
-Prepare tongue-tickling gravy for ragda patties and masala toast.
There are endless dishes you can prepare using blended chili powder but make sure to buy the best quality spice from the leading blended red chili powder supplier. There are many suppliers in Gujarat as Gujarat is usually like less spicy food with a blend of different flavors. Popular Gujarati recipes are dhokla, Gujarati Dal, Dal dhokli, and many more.
Following are some important aspects to be considered by suppliers if they want to grab the reputable position as a trustworthy blended red chili powder supplier in Gujarat-
-They should source the agro products either directly from such farms or through the reputed vendors, after getting assured of their quality, taste, fragrance, etc.
-They should have a team of experts, who look after the activities like procurement, packaging, shipment, and everything else, and ensure that everything goes systematically and in a hassle-free manner
-They should have experienced quality controllers to keep an eye on an incoming lot of goods so that only the finest products can be served across the markets.
-They should make these agro products available in good quality food-grade packaging materials to add to their shelf life and protect them from contact with dust and pollutants.
-Their products should conform to both domestic as well as international food quality standards.
-Their spices should be appreciated in the market for making available only quality certified agro products at reasonable prices.
Thus, it can be strongly stated that this ground spice blend adds a wonderfully smoky and earthy touch to your favorite dishes.